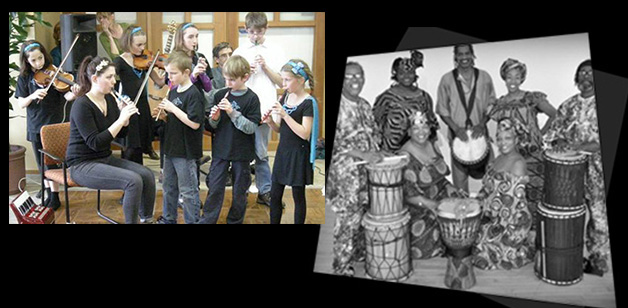 Carver Rec Center features Blue Ridge Irish Music School, and Chihamba's traditional West African drum and dance .
The Blue Ridge Irish Music School is dedicated to teaching the living art of Irish traditional music and fostering a dynamic environment for it in Central Virginia and beyond. Chihamba – Enjoy a variety of performance in African Culture through music and dance. Chihamba's drum and dance performances are based on traditional West African pieces. Timeless rhythms bring to life the spirit of the African culture with pure energy and excitement.
Blue Ridge Irish Music School performances at 4:15 and 6:15
Chihamba performs at 7:30 and 8:45
First Night Virginia is an annual community celebration of the arts that began in Charlottesville in 1982 and is the second oldest First Night in the country. 2015 is the 33nd annual festival of the arts with many family-friendly activities on and around the historic Downtown Mall.
Buy Wristbands
Go for Free