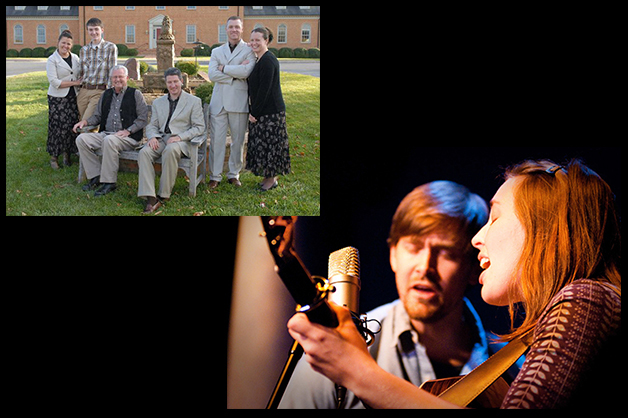 Prism Coffeehouse Partners with First Night Virginia to bring Americana Music and Bluegrass Gospel to the First United Methodist Sanctuary.
We are pleased to welcome back for the 2nd time to First Night Virginia Maryland-based roots duet The Honey Dewdrops, Laura Wortman and Kagey Parrish, who blend new Americana and traditional folk music, creating inspired songs rooted in the experience of real people. With music that covers the ground-between hand crafted folk songs, Appalachian fiddle tunes, and a cappella spirituals, every song shines with energy and emotion through intimate performances accomplished with a handful of acoustic instruments and tightly layered harmonies.
The Deanes have played numerous times at First Night Virginia, as they been playing and singing bluegrass gospel music for about 20 years. Eddie Deane, provides vocals and plays banjo, Tina Deane provides vocals, Larry Deane provides vocals and plays mandolin, Jordan Deane (son of Eddie & Tina) plays mandolin and provides vocals, Chris Kite plays rhythm guitar and provides vocals, Debra Kite provides vocals, Skip Coffman plays dobro, electric and steel guitars, Kenny Kerns plays upright bass, and Keith Samuels provides vocals and plays piano, harmonica and Dobro.
The Honey Dewdrops have 2 show at 6:15, and 7:30
The Deanes have 2 shows at 8:45, and 10:00
First Night Virginia is an annual community celebration of the arts that began in Charlottesville in 1982 and is the second oldest First Night in the country. 2015 is the 33nd annual festival of the arts with many family-friendly activities on and around the historic Downtown Mall.
Buy Wristbands
Go for Free