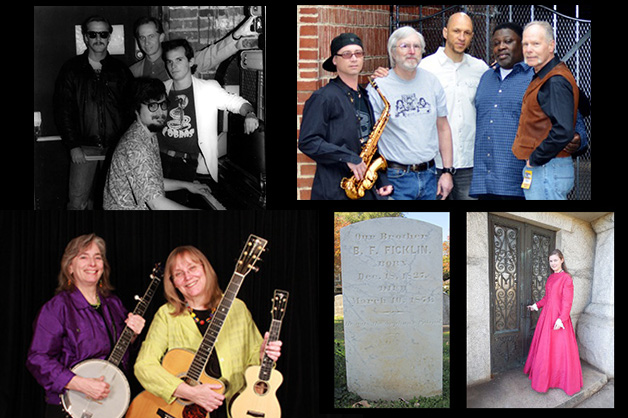 13 Days of First Night Virginia - Day 11 - Omni Hotel features Cathy & Marcy, Kokomotions, and Chicken Heads Blues Band. Albemarle County Court House features Sprit Walk and Maplewood Cemetery Tour.
At the Omni Hotel – Cathy Fink & Marcy Marxer are talented singers, songwriters, instrumentalists, educators and record producers with a repertoire of traditional and contemporary folk, old-time country and swing music. The Kokomotions Band consists of four original members. They are a New Orleans style rock and funk dance band with some original music mixed in. Chicken Heads Blues Band was declared to be one of the best sounding, well produced blues CDs ever recorded. Coming from the Mississippi Delta to the North Carolina Piedmont, from the Cape Fear River Basin to the Smokey Mountains.
At the Albemarle County Court House – Come commune with Spirits from an earlier time at the First Night Spirit Walk. The Spirit Walk is a 30-minute guided tour of Historic Charlottesville, in which participants encounter the apparitions of the town's previous inhabitants. Have you ever wondered about causes of death in the 19th century? Join the Albemarle Charlottesville Historical Society on New Year's Eve for "Unique Endings", a cemetery walking tour focusing on some of the more unusual deaths experienced by the residents of Maplewood Cemetery.
Cathy & Marcy shows are 4:15 and 6:15
The Kokomotions Band performances are at 7:30 and 8:45
Chicken Heads Blues Band plays at 10:00 and 11:15
The Spirit Walk on the half hour, 6:30, 7:00, 7:30, 8:00
Maplewood Cemetery Tour one tour at 4:15
First Night Virginia is an annual community celebration of the arts that began in Charlottesville in 1982 and is the second oldest First Night in the country. 2015 is the 33nd annual festival of the arts with many family-friendly activities on and around the historic Downtown Mall.
Buy Wristbands
Go for Free